First-Gen Undergrad: Saul Villegas (Porter '21, Art)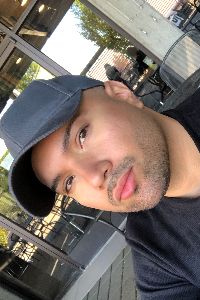 Background: I grew up in Avenal, CA a rural town in the Central Valley. Having a creative background in painting and working in a custom frame shop called Artisans allowed me at an early age to understand my skills as an artist. Developing a variety of skills through philanthropic community-based projects, I became interested in social art practices to benefit the community at large. By volunteering and donating artwork at the early stages of my artistic career, I began to get recognized for my efforts and it spun a whirlwind of opportunities and artistic driven ideas that would shape my motivation to seek higher education.
What motivated you to go to college?: Working with the public through non-profit organizations enabled me to express my opinions through art practice which required extensive research and proposals for grants and opportunities.  In having that encounter with the systemic funneling of funds for artists, I wanted to find better ways to produce meaningful exhibitions that would expand beyond the rural communities into the world of academia.  Primarily to discover my voice and to better understand the methods in art education to provide ways for other first-generation students to gain access to the universities.  By discovering new ways of thinking and inspiring others to make similar decisions, my path to go to college has always been to lead the way for others.
What's the biggest challenge you encountered as a first-gen student and how did you overcome it?: Navigating the community college course list for higher education was my biggest fear when starting my path to transfer to the university. Intersegmental General Education Transfer Curriculum (IGETC) was an integral part of my success in bridging the gap between community college and a Tier 1 Research University. I overcame that burden by connecting with my student success program (SSP) coordinator at my junior college and planned out a way to get IGETC certified to transfer with all my general education requirements.  By taking this important step in completing my degree, the transfer process went more smoothly and now I am focused on my major requirements towards graduation with my Bachelor's in Art Studio Practice.
How has your background helped you?: Paving an alternative route and having versatility in my skills in a rural setting allowed me to grow in many different ways, benefitting my artistic abilities.  Because of the diverse community, I come from, I was exposed to different mindsets that prepared me to practice inclusivity and responsibility to uphold my values in my Latinx community.
What would you tell my first-year self now?: I would say "thank you" for not being afraid to take risks and to be proud of myself for never giving up, taking on the responsibility, and resilience needed to be the voice in academia for our community.

What was the best thing about your college experience?: The best thing about my college experience is my commitment to thrive and inspire others.  Being a recipient of numerous scholarships and the prestigious Dean's Award for the Art department was an incredible highlight for my career. My college experience has been colorful in that the ways I've conducted research have been tailored to my specific needs, and there are plenty of bright individuals who have guided me through every step.
How has being a first-gen student influenced you (and/or your work) now?: It's influenced me to think of ways to cross-pollinate fields of study, making the presence of the arts in the university system a conversation important for presenting different forms of intelligence to education.