First-Gen Faculty: Veronica Terriquez (Associate Professor, Sociology Department)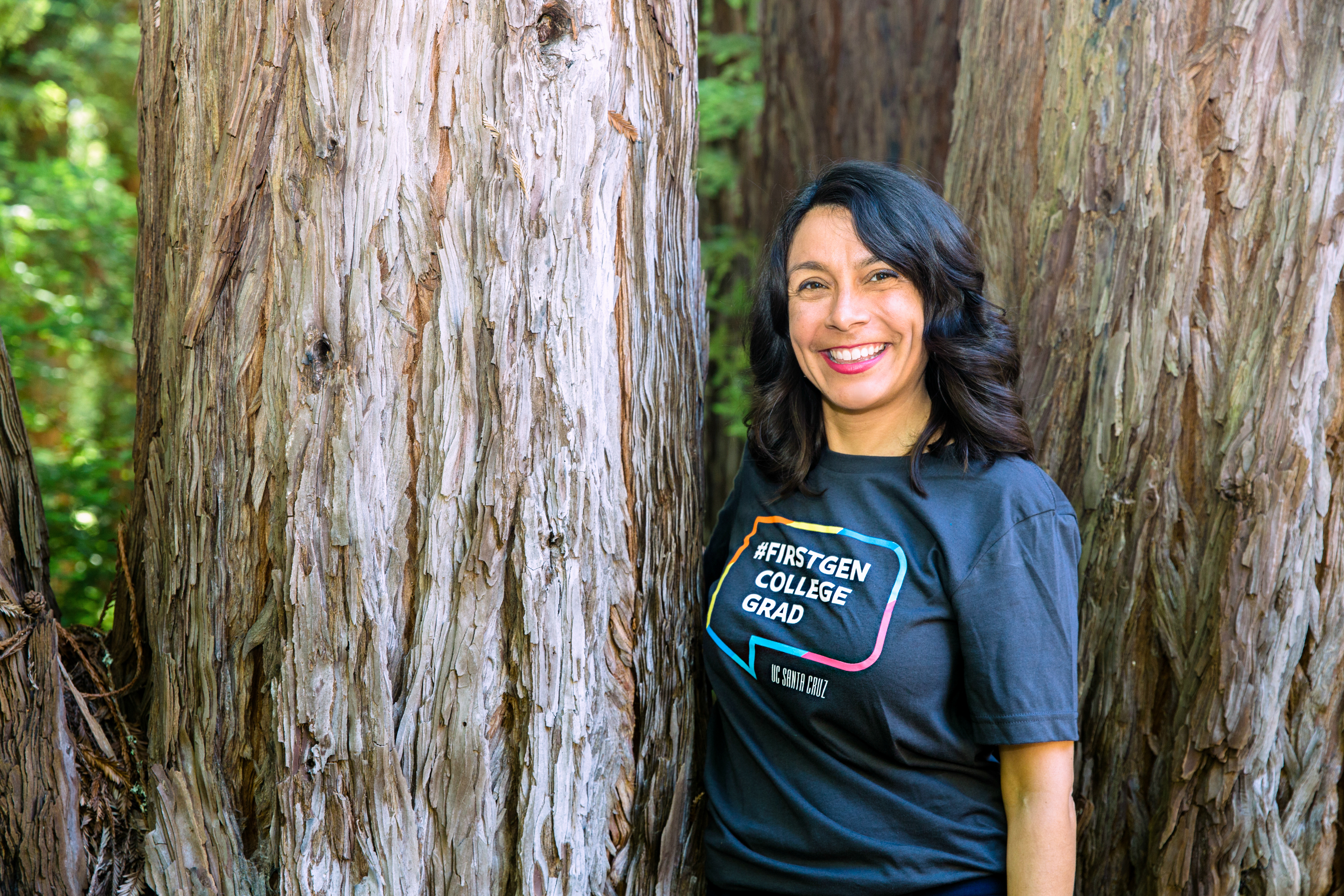 Veronica Terriquez was born in the San Gabriel Valley in eastern Los Angeles County. The daughter of working-class immigrants, Veronica discovered early on her acumen and affinity for academic pursuits.
She excelled in K-12, earning good grades and her parents actively encouraged her to pursue her dreams of going to college.
Everyone, including Veronica's counselor's, assumed she would go to college, but in terms of the specifics, she was fuzzy.
She was fortunate to come in contact with peers who applied to the University of California, Berkeley, and even Ivy League schools. Based upon her sterling performance throughout high school, Veronica was encouraged to think along similar lines.
"I was very fortunate to have people in my life who suggested I apply to top universities," Veronica said. "My parents were very supportive, but they didn't provide me with guidance on my options and application process."
She applied to Stanford, Berkeley, Pomona, UCLA, and Harvard, garnering acceptance letters at all five and eventually settling upon Harvard.
Once in Cambridge, she quickly realized the education she received at a Catholic High School meant that she was competing with students who were more prepared for the rigors of an Ivy League education.
"Math and science were my favorite subjects, but once I got into college I immediately became aware that my peers had much stronger preparation in those subject areas than I did," she said. "I initially didn't even know how to compete with them."
However, her parents' work ethic, demonstrated from an early age, meant Veronica was willing and able to put in the extra work necessary to level the playing field.
"I knew I had to work twice as hard, so that's what I did," she said.
Furthermore, Veronica began taking classes in sociology and found the study of social forces helped her understand and contextualize the difference between herself and her working-class background and many of the other students who came from more privileged backgrounds.
Armed with values of diligence and curiosity, Veronica eventually learned to thrive at Harvard and began to turn her attention to some of the inequalities she noticed at the school. Specifically, Veronica saw that there was not a single Latina professor at Harvard.
"One of the things I did with some of my peers was to work on an awareness campaign about the lack of diversity among the faculty," Veronica said.
The students put up posters, held rallies.
"I felt I was not represented and there weren't people like me working in higher education," Veronica said.
But far from holding her back, Veronica used it as a motivating force, impelling her to achieve academically so she could change the statistics. She went on to earn a master's degree at UC Berkeley and then a Ph.D. at UCLA.
Veronica is eager to participate in the First-Gen Faculty Initiative because she knows first hand the difficulties that students who are the first in their family to get to college face.
"I don't assume students have parents who went to college," she said. "It's why I aim to explain the expectations and processes at the beginning of each quarter."   
Veronica said she is also cognizant of the costs of course materials and attempts to orient her classrooms to factor in students who may be facing economic hardships.
The UC Santa Cruz First-Gen campaign should also help students realize they should take advantage of resources available to them while on campus. Meet with professors, utilize office hours, seek internships and engage with the college experience at a level that exceeds simply going to class and taking tests.
"This campaign matters because our students need to feel that they are supported," she said. "The faculty is here to help them navigate higher education. I'm here to help."