First-Gen Faculty: Raja GuhaThakurta (Professor, Astronomer, Department Chair, Astronomy & Astrophysics Department)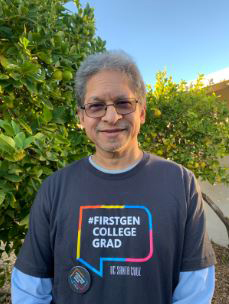 Background 
I was born in Kolkata, India and went to school and college in that city. I am the youngest of three siblings. My mother and father had both immigrated to Kolkata as teenagers, when they and their respective families were uprooted from a part of the world that is now Bangladesh at a time of religious and political turmoil in British India. My father was imprisoned as a political prisoner at the age of 16 and barely survived his two years in prison. He ultimately went on to complete not one, but two college degrees in Kolkata. He taught me (by example) to look forward, not back. My mother, whose love for art I acquired, started college but dropped out.
What motivated you to go to college? 
I had dreamed of being a scientist from a young age, my interest sparked by many class visits to a local planetarium while I was in elementary school. Watching David Attenborough's Life on Earth, a British television natural history series, in high school sealed the deal in my mind. I knew then that I wanted to pursue higher education in the sciences in the US, and was foolish enough to go through with it even though no one in my family could help me navigate this portion of my academic journey.
What's the biggest challenge you encountered as a first-gen student and how did you overcome it? 
As a first-gen graduate student in the US, I was utterly unprepared for a top-notch PhD program because I lacked familiarity with open-ended research, technical skills, the requisite academic preparation, etc. My fellow graduate students were my biggest resource. I am fortunate that they treated me as a collaborator, not a competitor.
How has your background helped you? 
It has taught me to be resilient and it has given me the confidence to self-learn.
What would you tell my first-year self now? 
Take the academics in college more seriously. Work harder, work smarter.
What was the best thing about your college experience? 
Many, many wonderful new friendships.
How has being a first-gen student influenced you (and/or your work) now? 
It makes it a little easier for me to understand my first-gen students' barriers.