First-Gen Faculty: Juan Poblete (Literature Professor)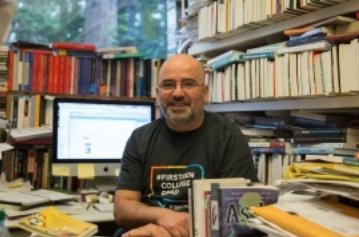 Juan Poblete was born in Santiago, Chile, one of five siblings. His father was a popular singer, whose Frank Sinatra-like crooner style made him popular in the 1950s. Juan's father also co-led a popular Chilean radio show in the 1960s.
Neither of Juan's parents graduated high school, though his father was a voracious reader, something he instilled early on in his son. Juan's mother had a strong sense of discipline and hard work, which Juan incorporated in his own approach, a particular influence on his studies.
Juan grew up in a working-class neighborhood in Santiago, attending good schools and showing aptitude and ambition early on.
However, Juan's childhood was beset by the political upheavals in Chile and Argentina throughout the 1970s and 1980s. In 1973, while Juan was still in primary (elementary) school, his family moved to Argentina as Augusto Pinochet effected a military coup and installed himself as dictator of Chile, a political circumstance that would last to 1990 and impede the educational efforts of many of Juan's compatriots.
With his family migrating to Mendoza, Argentina, Juan was encouraged to apply himself academically and he benefited from the examples of his older siblings, all of whom attended college. When a military coup took place in Argentina in 1976 Juan's family again moved, this time back to Chile, once again disquieting the continuity of his education.  
Juan continued to persevere, however, graduating from high school, studying literature at the University of Chile, and doing the coursework for a graduate degree in Communications before coming to the United States to pursue a PhD in literature.
"Since I loved it, I did really well," said Poblete of his experiences in college. "It's not like I found it easy, but I had discipline and I put the work in."
He earned his degree at Duke in 1997 and soon after accepted a tenure-track position in the Literature Department at UC Santa Cruz, where he has been ever since.  
Juan is proud to be part of a public institution now recognized as an Hispanic Serving Institution (HSI) with over 25% of the undergraduate student body identified as Latino/a. He served as co-chair for the task force that successfully applied for two Hispanic Serving Institution grants through the U.S. Department of Education totaling more than $8 million. These funds are being used to support student retention and success in math, science, and critical reading for incoming Hispanic students as well as to develop a sense of belonging and for implementation of culturally-relevant academic advising.
Because Juan teaches literature classes in both English and Spanish, he has a direct connection to many first-generation students making their way through college.
"What I would say to a first-generation student is that you are welcome here at UCSC, we want you to be successful, we understand your challenges. We are in the process of re-designing all the steps, rethinking our approach to preparatory education in college, creating a level playing field for all of our students. We are committed to supporting you in excelling and look forward to you graduating from this campus," Poblete said.
The institution, Juan notes, must continue to progress if it plans to serve the current and the next generations of Californians. Demographic forces mean the institution must rise to the challenges of providing high-level and effective education to a culturally diverse student body. He sees the First-Gen Faculty (FGF) campaign as one step in that direction.  
"It is not just Latinos," he said. "We have many students from underserved populations who are Vietnamese, Chinese, Filipino, African Americans, and Native Americans. They are often the first to go to college in their family too."
Juan notes that all of these demographics combined accounted for roughly two-thirds of the students at UC Santa Cruz for the fall of 2016.
"We are a majority-minority campus now," he said.
With the FGF campaign underway, the HSI initiatives being implemented, and so many student success services provided on campus, Juan sees UC Santa Cruz now on the path toward fulfilling the mission of a public university, serving the needs of students in a culturally and ethnically diverse state and nation.
"We need to be able to say to these students — 'We have created the perfect social and educational environment for you to thrive here. All we need now is your full effort and talents'" Juan said.